All About Dudley Borough Launch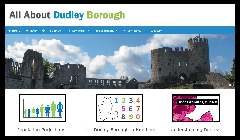 All About Dudley Borough is being launched on Monday 23rd of July.
This website has been developed in partnership with Sandwell Council (Sandwell Trends) and Walsall Council (Walsall Insight), with all three sites designed to present information on their local places and population.  Following the launch we will start a second phase of development which will include interactive tools you can use to explore and manipulate information.  We will update you when this functionality is available so watch out for future News items on this and other developments.
All About Dudley Borough is designed to be our local Joint Strategic Assessment – also known as a Joint Strategic Needs Assessment (JSNA) – as well as making data available related to the local Health and Wellbeing Board (HWBB).  Following the completion of pages exploring the population of Dudley Borough we will focus on the three current health and wellbeing priorities:
• Poverty
• Healthy Weight
• Loneliness and Isolation
This site will continue to develop and the context expand to cover a list of future topics.  If you have an idea for a topic you would like to see included please let us know using the Contact Us page.