Randomised Coffee Trial - KNOWvember 2019
To raise awareness of Knowledge Management, Knowledge Services held a Randomised Coffee Trial in November 2019. This is a rather fancy name for a simple idea. RCTs are used to connect people in an organisation at random and give them time to meet to have a coffee and talk. Randomised Coffee Trials enable people to meet, connect with one another, establish links and share knowledge.
We asked participants for some feedback from the event. Here are a selection of responses:
"Meeting went really well, no problem to arrange. Conversation flowed, we talked about a range of things such as background, previous and current work. I found it a positive experience, it was good to have time set to meet and chat with someone. We used the prompt card too which had some fun/unique questions".
"Calendars were a little difficult to arrange. We met at a healthy hub. Chatted very easily about each others work roles and experiences of working for Dudley council, (all good!). Nice meeting. Enjoyed the tea and coffee. Learned a lot about my co-workers service and vice versa. Will be sign-posting both our clients to each others services. I think more people should do the Randomised Coffee meetings. Looking forward to doing this again. Well done. Great initiative."
"It went very well, the time flew by. I found it informative and we plan to meet up again".
"Easy to meet, but I did know the person I was meeting which I think helped. We went to the coffee shop rather than staying in work and chatted for about an hour. It was easy to make conversation, we found some things in common".
We asked participants if there were any benefits to taking part. Here are a selection of responses:
"Feeling like I got to know someone else in the office who I hadn't spoken to before".
"Good to take a short time away from day to day role and make time to meet someone I would usually only see in passing".
"Knowing more about the people you work with which is not all about work. Meeting new people. Having some time out of work".
Christmas Countdown 2019
Each year we produce a countdown to Christmas. Here is our 2019 countdown calendar.
Click the link below to open the calendar.
Blue Monday - 20th January 2020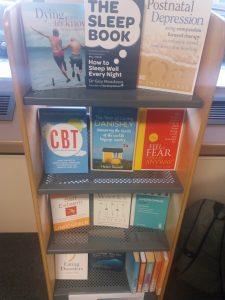 Knowledge Services took part in Blue Monday events at 3-5 St James's Road on Monday 20th January 2020. Blue Monday aims to raise awareness of mental health, encourage people to talk openly about their mental health and promotes support for anyone who may be seeking help.
Knowledge Services were invited to promote our self-help and mental health resources to staff. We spoke to a range of people throughout the afternoon making them aware of the resources we have on offer to help staff with a range of common mental health conditions. The self-help titles are all available from Knowledge Services, Level 2, Dudley Public Library and are free to loan for all Dudley Council staff employees.